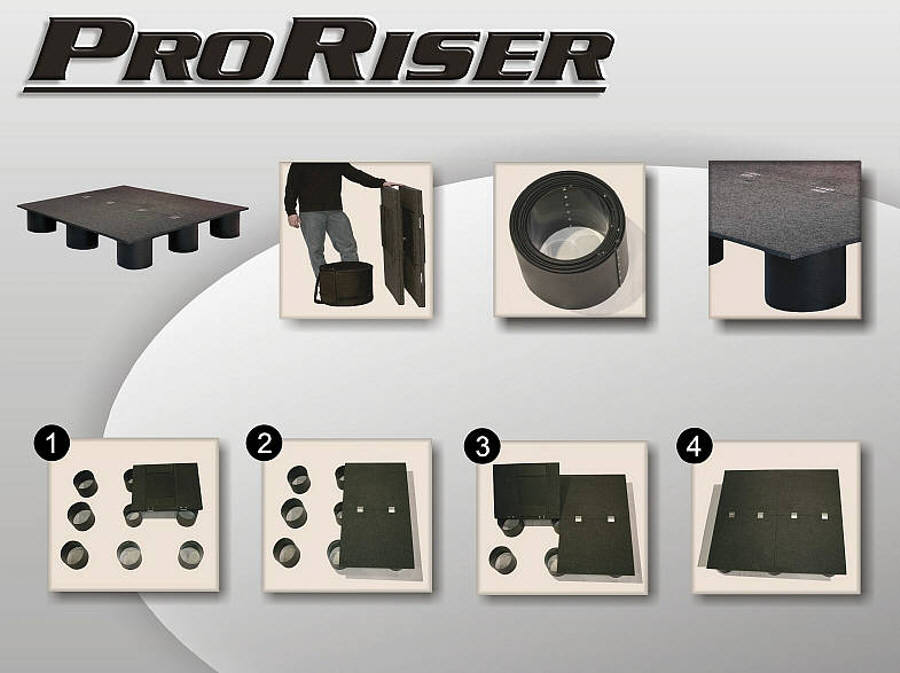 Introducing the Most Portable, Rock Solid Riser System on the Market Today
SETS UP IN 5 MINUTES OR LESS
NO TOOLS REQUIRED
● ULTRA PORTABLE
● LIGHTWEIGHT
● COMPACT
● ROCK SOLID
Three ultra-portable
components: one carrying
case and two decks
with optional wheels.
Lightweight and compact!
Our patented riser support system
consists of nine molded ABS plastic
shells that nest together as shown
and store in one carrying case.
Shells are virtually indestructible!
The decks are 3/4" Grade-A
birch plywood with added
load bearing struts, carpeted
top and bottom in charcoal
gray or black.
Set up shells and place
first deck as shown.
Place second deck on
shells, unlatch and unfold.
Lock decks together.
Add optional skirting.

"Absolutely rock solid, and so
.. compact - it's amazing."
Carpeted decks grip the ProRiser shells, creating an incredibly secure and stable performing surface with no lateral movement.